Back to listing
Doherty Hotel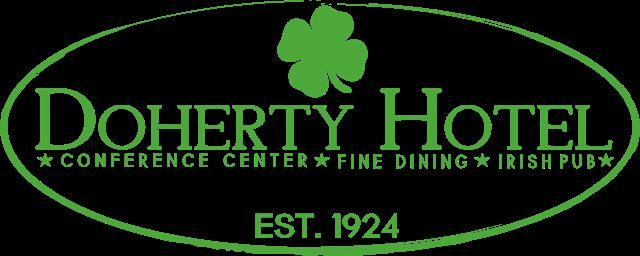 Visit Website
Address
604 N. McEwan Street
United States
Regions: Mid-Michigan
Expand All
Contact
Description
Step into the main floor of the hotel, in the Leprechaun Lounge.  A story appears on every wall. In the 1930's a poor man, who could not afford a home, traded his talent for a place to stay. The painted story begins with a leprechaun village beginning to make their ale. We see every step involved in completing their task, and at the end, we see the villagers celebrate their completion.
At the crossroads of US-10 and US-127, the late Senator Alfred James Doherty I, friend of Henry Ford, was convinced that the automobile would eventually become the transportation of choice, and therefore, he decided to build in the center of Clare instead of near the railroads, which was very insightful for that era, and, eventually, proved to be very profitable.
Soon thereafter, Clare became known as "The Crossroads of Michigan" as the Pere Marquette Railroad and the Ann Arbor Railroad intercepted in this small town. Thanks to these two railroads, Clare became a popular stopping place for tourists and commercial travelers, and the new Hotel Doherty was there to accommodate.


Clare, MI is halfway to everywhere in the Lower Peninsula.


Clare also has the perfect location for its' nickname "Gateway to the North".


The Hotel is located across the street from the nationally known Cops & Doughnuts.


The Doherty is conveniently located near the Pere Marquette Rail-Trail Pathway.


Clare is also known for its huge population of the Amish and is filled with tons of Amish stores, markets, and services.


Come in for an experience of a lifetime!
Whether it is breakfast, lunch, or dinner, we serve delectable cuisine that is sure to make your taste buds roar.  If you are looking for a full meal,  one of our awe-inspiring desserts, or just a few drinks with friends at our "authentic Irish tavern" we have you covered. Our warm and inviting atmosphere along with the rich history of the Doherty Hotel keep our guests coming back for more.