Back to listing
Our Lady of the Woods Shrine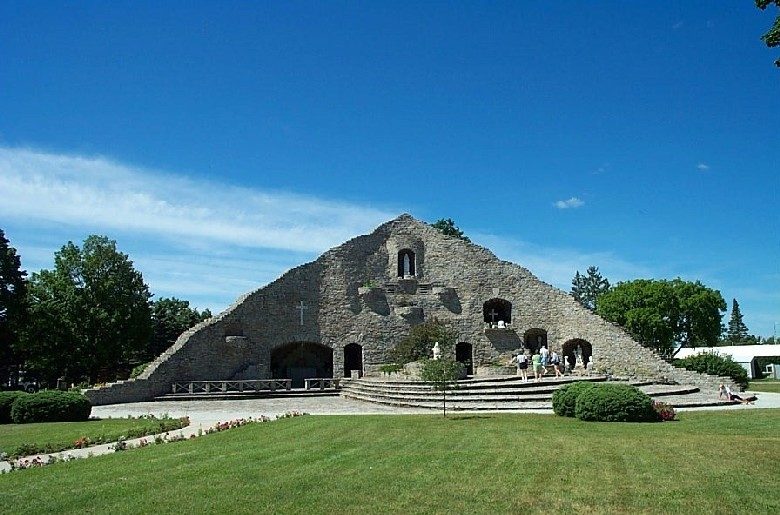 Visit Website
Address
PO Box 189
100 Deyarmond Street
United States
Regions: Mid-Michigan
Our Lady of the Woods Catholic Shrine Grotto – is a mountainous structure of stone honeycomb with grottos and niches.
Expand All
Description
Our Lady of the Woods Shrine is located on State Highway M-72 in the heart of the Huron National Forest. The Shrine stands just off the main street, M-33, of the small tourist community of Mio Michigan.  Men and women of all faiths are responsible for its conception and growth. Bishop Woznicki of the Diocese of Saginaw in 1961 stated, "St. Mary Church is one of the smallest parishes of the Diocese with the largest Shrine of its kind in the world."

Anna Schild, a German Lutheran woman, donated the original statue in memory of her husband which was the catalyst for the building of the Shrine. Two Baptist construction workers asked and were given permission to build a 22 foot tubular cross in front of the Shrine. A Methodist woman designed and donated the right front of the SHrine representing the Upper Peninsula of Michigan.

The Shrine was completed and dedicated on September 4, 1955 by the Diocese of Saginaw, with 4,000 to 5,000 people in attendance. In the following years, an addition was designed and constructed to house the Family depiction, Our Lady of Czestochowa and St. Anne de Beaupre. A second dedication occurred for these additions on July 17, 1958. At the same time, a life size Christ the King statues was placed out front by M-72 to greet visitors.

The Shrine is considered a Marian Shrine and has 7 Marian depictions which include Our Lady of Lourdes, Our Lady of Fatima, Our Lady of LaSalette, Our Lady of Mt. Carmel, Our Lady of Guadalupe, the Assumption of Mary and a mosaic of Our Lady of Czestochowa. There are two walk-in grottos, one in front which is the home to the Pieta and the rear grotto which houses St. Anne de Beaupre and the Holy family of Jesus, Mary and Joseph. These grottos were designed after the catacombs in Rome.

Also on the property is a large depiction of the Crucifixion with Mary and John statues positioned near the base of the cross.  Near the rectory is another marble statue of St. Francis of Assisi and his dog. All in all, there are 32 Cararra Marble statues, hand designed and shipped from the Cararra District of Italy. These statues were donated by people of the states of Michigan, Indiana, Missouri and Wisconsin.

A gift shop is available and both grottos have locations for votive candles. The common refrain from visitors is, "This place is beautiful!"

We recommend that visitors call ahead and schedule a tour. This is so the stories of the Shrine can be heard. Food and drink is available by request for a fee. There is no fee for tours and visitation. Groups are welcome. The only thing invested is your time and we guarantee you won't regret it.


Photos