Maritime Heritage Shines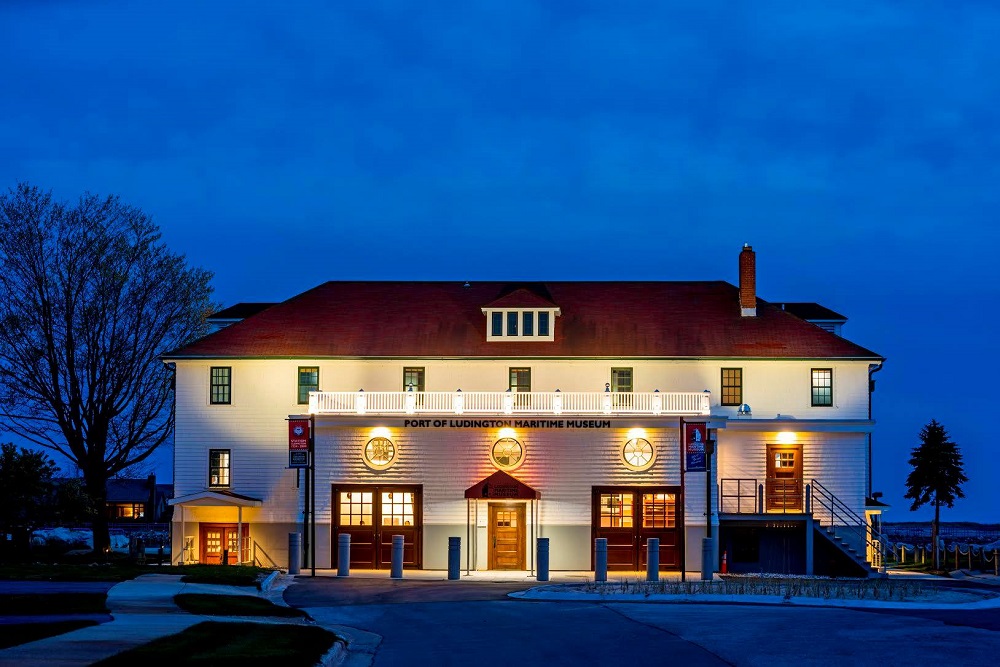 By David Hoekman
Traffic thins as a motorcoach moves into Northern Michigan.
The air cools.
Rolling hills come into view. On the western edge of the Lower Peninsula, group tours encounter Ludington, situated on Lake Michigan.
I discovered Ludington offers a historic village, a dandy maritime museum, a walkable downtown and a National Historic Landmark that moves.
My tour started at Historic White Pine Village, a late 19th-century and early 20th-century village. In 30 historic exhibit buildings, groups find thousands of authentic artifacts. To add to the experience, first-person interpreters assume the personas of actual Mason County residents. One of the village buildings is the original 1849 Mason County Courthouse, which also was settler Burr Caswell's home.
"We have a Mr. Caswell interpreter in here who will interpret his home," said Rebecca Berringer, executive director of the Mason County Historical Society, which operates the village. "That really brings it to life."
The Port of Ludington Maritime Museum, also part of the historical society, opened in 2017. The museum is located in a former U.S. Coast Guard Station.
This group-friendly, three-story museum (with an elevator) overlooks Lake Michigan's shoreline, Ludington's iconic North Pier Light and the historic carferry SS Badger, a moving National Historic Landmark.
At the museum, digital storytelling as well as images and artifacts from the historical society's extensive collection convey the region's maritime history. An interactive experience takes groups back in time to the pilothouse of the Pere Marquette 22 in the 1930s.
You can even take control of the helm and telegraphs to pilot the carferry in and out of the harbor and across Lake  Michigan in a deep fog, all under the guidance of veteran Captain Wallace Van Dyke. I learned that each of the seven car ferries that once steamed into Ludington had its own distinctive whistle.
While in downtown Ludington, group tours can stroll through Waterfront Park and follow a free sculpture trail depicting Ludington history. The beach at Stearns Park also is a favorite. On Ludington Avenue and James Street, you can eat at locally-owned restaurants and shop in the galleries and boutiques. Sicilian-born Chef Leo prepares mouth-watering Italian cuisine at Luciano's Ristoranti.
I closed out my visit in the best way possible, with a dish of Blue Moon ice cream at the '50s-themed House of Flavors Restaurant. The signature flavor has been a part of the restaurant's history since the 1930s; the ice cream company credits itself as being the first to produce the sweet, blue treat.