Back to listing
Star of Saugatuck Boat Cruises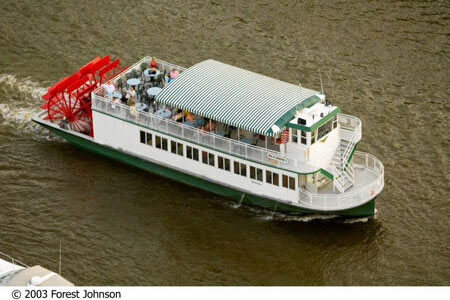 Visit Website
Address
716 Water Street
P.O. Box 190
United States
Regions: Mid-Michigan
Bon Voyage!! Boarding The Star, an authentic sternwheeler, operates on the Kalamazoo River. Then into Lake Kalamazoo where you'll view the quaintness of Saugatuck from the water.
Expand All
Contact
Julie Ziemann
General Manager
Description
On occasion, during the 90-minute cruise, you'll catch a glimpse of deer, wild turkey, fox, blue heron, seagulls, and eagles as well as other wildlife natural to the area.

Then out to majestic Lake Michigan where we will view its vastness, and the natural beauty of Michigan's sand dunes.  You will enter Lake Michigan with permitting conditions (this is a trip-by-trip decision that the captain makes when they can see the actual condition of the lake).  If the "Big Lake" is too rough, we will turn around inside the safety of the breakwaters.

The captain onboard will provide an informative narration on the area, pointing out local landmarks and points of interest along the way.  Onboard are two restroom facilities, a climate controlled lower deck, and refreshment area that sells snacks and beverages (including spirits).    The upper deck is open with a partial canopy and the lower deck is enclosed with windows completely surrounding you for an unobstructive view of the area.