Cruise Control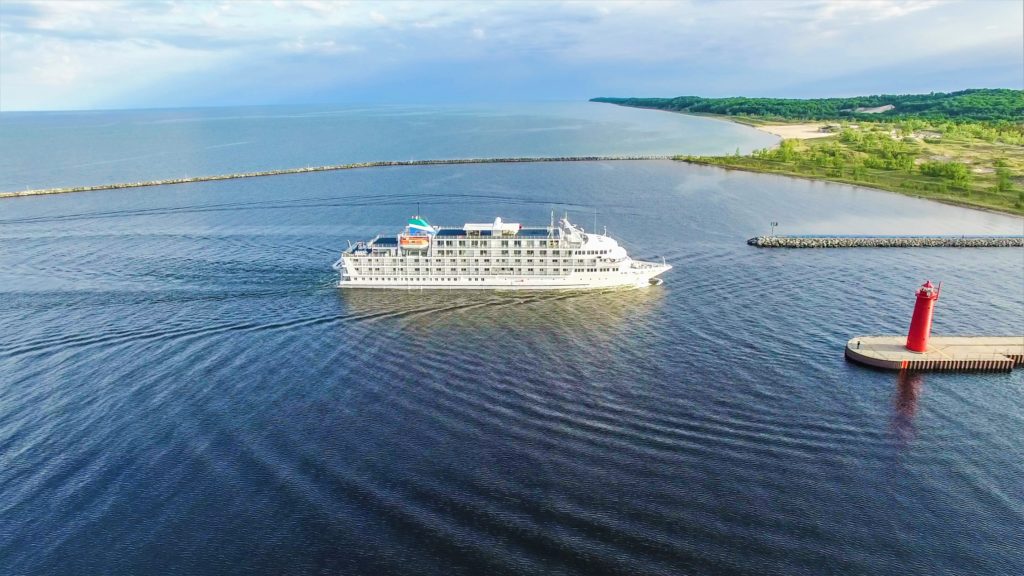 By Courtney Birchmeier
Small ship cruises transport groups to Michigan ports of call.
As the largest freshwater ecosystem in the world, the Great Lakes are the perfect setting for small ship cruises. Companies like Victory Cruise Lines, Blount Small Ship Adventures and Pearl Seas Cruises offer Great Lakes itineraries aboard intimate vessels that visit some of Michigan's best cities.
"Cruising the Great Lakes is becoming more popular for those who have traditionally traveled by cruise ship in other areas of the world," said David Lorenz, vice president of Travel Michigan and board chairman of Cruise the Great Lakes, an organization that's building awareness of Great Lakes cruising options.
"It's easy to understand why these travelers are considering this region. The unparalleled beauty of our freshwater seas combined with the intimate setting only available on small cruise ships offers a unique, compelling experience."
Michigan's port cities are waiting to welcome groups to their communities before, during and after a cruise.
Mackinac Island
Situated in Lake Huron, Mackinac Island offers the simple life — no cars or chain hotels, the lulling clomps of horses and buggies on the streets, and lots of history and fudge to go around.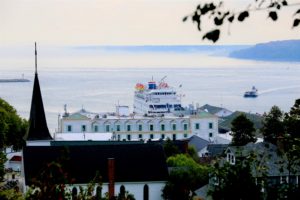 "Great Lakes cruise ships land on Mackinac Island about 30 times each season," said Tim Hygh, executive director of Mackinac Island Tourism Bureau. "A typical day in town includes a narrated carriage tour, a visit to Fort Mackinac, lunch at Grand Hotel and shopping. Some of the ships will also have local talent entertain their passengers.
"The ships add excitement to downtown Mackinac Island," Hygh said. "Our day visitors enjoy seeing the ships up closely as they sit on the dock."
Alpena
Groups looking for a Northern Michigan sanctuary will find it in Alpena. The historic city on the shores of Lake Huron offers history, heritage and relaxed outdoor adventure, all perfect aspects of a group getaway.
"We love welcoming cruise ship passengers to Alpena," said Mary Beth Stutzman, president and CEO of Alpena Area Convention & Visitors
Bureau. "It is always an enlightening experience to visit with travelers. Many are interested in the history of the region and enjoy visiting the lighthouses, the Great Lakes Maritime Heritage Center and viewing historic buildings throughout Downtown Alpena. Great Lakes cruise ships calling upon Alpena have been a wonderful opportunity for our community."
Marquette
Located on the southern shores of Lake Superior, Marquette is known as the Upper Peninsula's Queen City. It features 150 miles of singletrack, 83 miles of shoreline and 77 waterfalls, in addition to unique food and brews, and downtown shopping.
Although it has been several years since a cruise ship has visited Marquette, there are plans in the works for another vessel to visit soon.
"Typically, visitors like to stay nearby the port since it's all within walking distance downtown," said Susan Estler, executive director of Travel Marquette.
"Whether it's the Washington Street shops, to the restaurants on Lake Superior and endless breweries, there's something for every visitor to enjoy."
Detroit
There's always something new to see and do in Michigan's largest city. And it's not just the number of attractions that's growing.
In 2019, there was the potential for Detroit to host more than 8,000 cruise ship passengers, a number the Detroit Metro CVB hopes to increase in 2020 and beyond, with the addition of a new ship every year for the next two years.
"Starting in 2020, passengers will have more opportunities to explore the downtown area, including our new restaurants, shops and other major attractions," said Jennifer Ollinger, manager, domestic & international marketing for the Detroit Metro CVB.
"Our dock is located right in the heart of downtown. As soon as passengers step off the ship, they can enjoy the beautiful Detroit international riverfront and other nearby attractions."
Muskegon
Muskegon Lake is the largest natural deep-water port on the eastern shore of Lake Michigan, making Muskegon a prime cruise ship location.
"The port of Muskegon has become one of the most popular cruise ship ports on the Great Lakes," said Cindy Larsen, president of Muskegon Lakeshore Chamber of Commerce. "The scenic vistas of Muskegon Lake dunes and shoreline show Michigan at its finest. These passengers are well traveled, yet they find our local history fascinating."
Top excursions include the USS LST 393 Veterans Museum, Hackley & Hume Historic Site, Muskegon Museum of Art and the Heritage District.
"Visitors are surprised to find their lives have been touched by Muskegon even if they have never been here," Larsen said. "People enjoy seeing an original Raggedy Ann Doll, Brunswick bowling balls and lane, or any of the over 80 products made in Muskegon over the years."
In 2020, Muskegon has reservations for 34 ports of call. That number is expected to grow.
Sault Ste. Marie
Situated along the St. Marys River in the Upper Peninsula, Sault Ste. Marie is a city steeped in history. Groups can check out the retired, 550-foot lake freighter SS Valley Camp and its maritime museum within. A walk along Water Street includes views of historic homes with stories dating more than three centuries. A tour of the Soo Locks with Soo Locks Boat Tours is a must.
"Sault Ste. Marie, nestled between lakes Superior and Huron, is a perfect destination for cruise ships," said Linda Hoath, executive director of Sault Area Convention & Visitors Bureau. "With a handful of attractions located off the St. Marys River, including the world-famous Soo Locks, travelers won't have to go far to make a memory